Last updated: January 4, 2018
Prayers for healing can illustrate firsthand the incredible power of prayer. Through prayer for the sick and poor in health, we can find comfort in the most trying of times. Use these prayers, and keep them in your heart so they can remind you of God's nearness.
The following prayers have been curated by pastors and clergy, while some come from rare, out-of-print prayer books.
God has been in the business of answering prayers for healing for a long time. Use these prayers as examples, and submit your own public prayer request at the bottom of this page.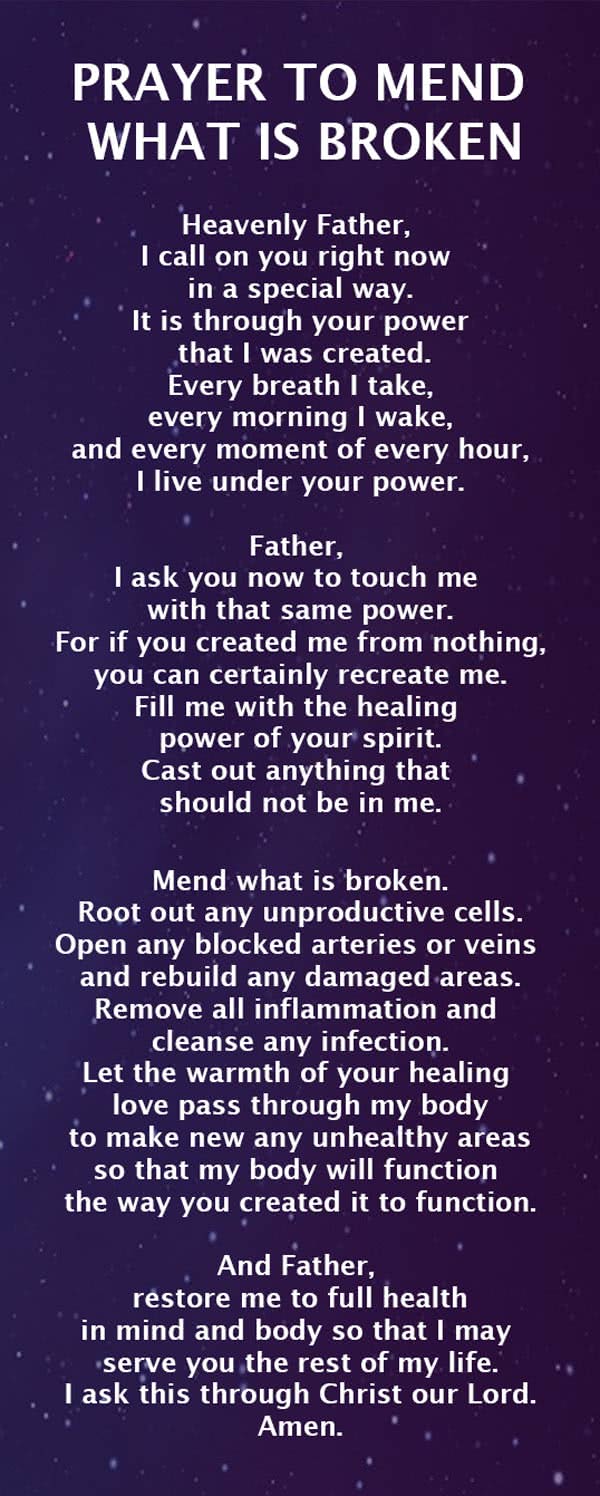 Renew My Mind, Body and Soul
Lord, I come before you today in need of your healing hand.
In you all things are possible. Hold my heart within yours, and renew my mind, body, and soul.
I am lost, but I come to you with grace.
You gave us life, and you also give us the gift of
infinite joy. Give me the strength to move forward on the path you've laid out for me.
Guide me towards better health, and give me the wisdom to identify those you've placed
around me to help me get better.
In your name I pray, Amen.
To Heal a Friend
Think, o God, of our friend who is ill, whom we now commend to Your compassionate regard.
Comfort him upon his sickbed, and ease his suffering. We beg for deliverance, and submit
that no healing is too hard for the Lord, if it be His will.
We therefore pray that You bless our friend with Your loving care, renew his strength,
and heal what ails him in Your loving name.
Thank You, Lord.
A Prayer for Healing a Loved One
All our times are in Thy hand.
All diseases come at Thy call, and go at Thy bidding.
Thou redeemest our life from destruction, and crownest us with loving kindness and tender mercies.
We bless Thee, that Thou hast heard prayer, and commanded deliverances for our friend and
Thy servant, who has been under Thine afflicting hand.
He (or she) was brought low, but Thou hast helped him (her).
May he (she) not only live, but declare the works of the Lord!
As Thou hast delivered his eyes from tears, his feet from falling, and his soul from death,
may he daily inquire:What shall I render unto the Lord for all his benefits towards me,and
resolve to offer unto Thee the sacrifices of thanksgiving, and to call upon the name of the Lord.
May we ever remember that recovery is only a reprieve and
that some day we will go to our rest in the Lord.
May we therefore secure the righteous path and live with eternity ever in our view.
A Prayer to Jesus for Healing
Dear Lord, You are the Just judge, Holy and True. You are the Most High God. You give us life.
You hold all power in your hands.
You are the Mighty one from God who carries the world, and is ruler over all the earth.
You Oh Most Blessed One are the giver of life. In you are only good things.
In you is mercy and love. In you is healing of the nations.
In you is freedom of worry and freedom of pain.
Lord Almighty, You loved us so much. You were sent from your Father,
sent to save us from destruction. We truly can never make it to Heaven without the help of Jesus the Son,
who was sent to earth to help us.
You, Lord are full of mercy and grace, please forgive us for our faults.
Lord Jesus, in you all healing is performed. You Lord are the miracle worker.
In your Spirit, your gift of healing is alive. In you Lord we can put our trust that you can heal us,
and protect us from the enemy, and death of our soul.
You, Lord are miracle worker for the sick, and for the lost souls.
You, Lord forgive us and save us from condemnation. You cleanse us and make us born again new.
You give us a clean heart full of peace. You Lord are the Light.
In You is all truth. Your way Lord is the way to Heavenly Hope.
Your hands Lord created the universe. You Lord are the True giver of Life.
Every child is a miracle of Life. Life rests in Your Hands.
Wrap us as a close knit family, draw us near to you Lord, and bind us with your Loving Hands.
Let us be drawn closer to You. You are the Vine, dear Lord and we are the branches.
You carry all knowledge and all power. You Lord are our medicine. Your Words Lord are Truth and Life.
Help us put our trust in You. You Lord are the greatest physician.
You heal, You protect, You care, You love, You are kind, You are patient,
You are thoughtful, You are strength. You Lord are our Creator.
You know our thoughts, our sighings and our cryings and every hair on our head.
You are Wonderful and make all good things for us. Heal us Lord, if it be Your will.
Amen
A Prayer Against Disease
Lord, Your scripture says that you heal all diseases and whoever believes in You will not perish but have an everlasting life. Strengthen me, Lord, in this time of illness. Sustain him as he lays sick in his bed. When You were on Earth, you did all things good and healed all kinds of sickness.
You healed those who had diseases. You died and rose for our sins and that we may have eternal life, Lord. I believe in my heart that You are here with us today and that with Your most holy power will remove all sicknesses and evils that roam the earth. Let it be done in Your glory, Lord.
We praise and glorify Your name, Amen.
My Lighthouse of Hope
Most gracious and loving Father, I want to thank You for all the blessings Youve given me, my family and friends and all those I hold dear.
Thank You Lord for giving me another day to see the beauty of your creations. You know the state of crisis that I am in now Lord. I want to be of use again to You, Lord. In the time of my hospitalization, You Lord remain as my rock and my anchor.
You stand as my lighthouse giving me hope. I pray Lord that you will heal me soon.
In Jesus name, Amen.
A Prayer for Doctor's Wisdom
Dear Lord, Guide my doctor's hands and give him wisdom.
Show him the way and help him to heal me.
I put my faith in you and the medical professionals that you have brought to me.
A Prayer to Ease Pain
Almighty Father, Thank you for your love, grace and mercy. I pray that my discomforts will turn to comforts, my pains to gains, my deprivation to more blessings, my losses to profits, my tear to smiles, my sorrows to pleasures, my illness to wellness, my debts to credits and my dreams to realities.
As the scripture said "The Lord is near to the brokenhearted and saves the crushed in spirit." And he "He heals the brokenhearted and binds up their wounds.
I trust in you Lord and in you alone to heal me with any form of skepticism towards blessing that you will be employed upon me. I trust, Lord, that this agony and suffering that is only in my head, will come to end and positivism will shine upon me as I read, hear, study and preach the truth in the Bible.
What does the Bible say about healing?
"Behold, blessed is the one whom God reproves; therefore despise not the discipline of the Almighty. For he wounds, but he binds up; he shatters, but his hands heal."
[
Job 5:17-18
]
"And Jesus went about all Galilee, teaching in their synagogues, and preaching the gospelof the kingdom, and healing all manner of sickness and all manner of disease among the people."
[
MATTHEW 4:23
]
"And the people, when they knew it, followed him: and he received them, and spoke unto them of the kingdom of God, and healed them that had need of healing."
[
LUKE 9:11
]
"Confess your faults one to another, and pray one for another that you may be healed. The fervent prayer of a righteous man is effective and has great strength."
[JAS 5:16]
Often times, it is good to look towards the scriptures for truth and understanding of this world. Click here to read more Bible verses about Healing or Life.
More Prayers for Healing
Prayer Request: Post Your Own "Prayers for Healing"
/>
If you'd like, you can post your prayer below so the PrayWithMe community can help pray with you.

Rules for Posting: All prayers are posted publicly through to this site. Don't use full names or any other identifying information that you wouldn't want out on the web.

Don't post with ALL CAPS, and try to use proper spelling and grammar.

If you can, help pray for others and post comments of support.
Recent prayer requests...
Tap below to see prayers from other visitors to this site.
More prayers posted in:
Healing