The Footprints Prayer is an inspirational poem about having faith in God. Also known as Footprints in The Sand, this prayer shows how God is always with us, especially in times of need.
It is thought by some that the person describing the dream is in fact, Jesus. Just as we all sometimes struggle with our faith, so to did Jesus. In times of need, we must look back and see the footprints in the sand to realize that God is, has, and always will by our side.
The Footprints Prayer
One night I had a dream…
I dreamed I was walking along the beach with the Lord, and
Across the sky flashed scenes from my life. For each scene I noticed two sets of footprints in the sand; One belonged to me, and the other to the Lord. When the last scene of my life flashed before us, I looked back at the footprints in the sand. I noticed that many times along the path of my life, There was only one set of footprints.
I also noticed that it happened at the very lowest
and saddest times in my life
This really bothered me, and I questioned the Lord about it.
"Lord, you said that once I decided to follow you,
You would walk with me all the way;
But I have noticed that during the
most troublesome times in my life,
There is only one set of footprints.
I don't understand why in times when I
needed you the most, you should leave me.
The Lord replied, "My precious, precious
child. I love you, and I would never,
never leave you during your times of
trial and suffering.
When you saw only one set of footprints,
It was then that I carried you.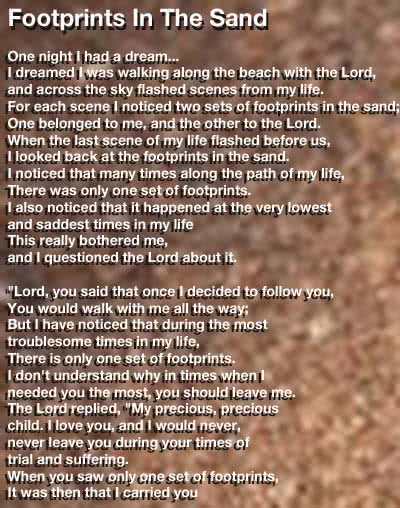 Footprints in the Sand Art
Here is a beautiful image depicting this prayer.
Prayer Request: Post Your Own "The Footprints Prayer"
If you'd like, you can post your prayer below so the PrayWithMe community can help pray with you.

Rules for Posting: All prayers are posted publicly through to this site. Don't use full names or any other identifying information that you wouldn't want out on the web.

Don't post with ALL CAPS, and try to use proper spelling and grammar.

If you can, help pray for others and post comments of support.
Recent prayer requests...
Tap below to see prayers from other visitors to this site.
More prayers posted in:
Well Known