A Prayer for Strength is often needed during difficult times. God is always here for us, to give us strength and lift our hearts when all seems hopeless. "I can do all things through Christ, which strengthens me."
(Phillippians 4:13) May these prayers for strength inspire courage and faith when you need it most!
Most of us realize that our own strength is not always enough to get through some of the situations that this life brings.
At those difficult times, it is wise to call on God for extra strength and for His strength to help sustain you when your own strength fails. (Psalms 28:8 and Isaiah 40:29)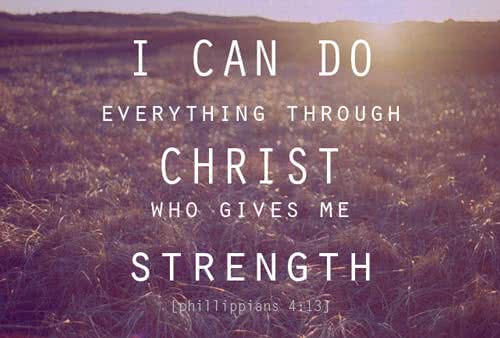 I can do everything Through Christ Who gives me strength. Phillippians 4:13
Give Me Strength, Lord
Lord, you are Holy above all others, and all of the strength that I need is in your hands.
I am not asking, Lord, that you take this trial away. Instead, I simply ask that Your will be done in my life. Whatever that means, that is what I want.
But I admit that it's hard, Lord.
Sometimes I feel like I can't go on. The pain and the fear are too much for me, and I know that I don't have the strength on my own to get through this.
I know that I can come to you, Jesus, and that you will hear my prayer. I know that it is not your intent to bring me to this point just to leave me in the wilderness alone.
Please, Lord, give me the strength that I need to face today. I don't have to worry about tomorrow.
If you just give me the strength that I need today that is all I need.
Keep me from sinning during this trial. Instead, help me to keep my eyes on you. You are the Holy Lord, and all of my hope rests in you.
Thank you for hearing my prayer.
In Jesus' name. Amen.
For Strength and Wisdom
Thank you, Lord, for being there for me and allowing me to cry out to you in my times of need.
It is amazing to me that the Lord of the Universe would take time to listen to me and to care about what I say.
God, there are things happening around me right now that I do not understand.  Some of these things make me feel weak, helpless and afraid.  
Even in the midst of this, I know that you are the Lord.
I know that the situation is in Your hand, and I trust You.
I beseech you for strength and for wisdom that I would be able to endure the situation and be able to handle it in a way that would bring glory to Your name.
In Jesus name, Amen.
Don't ever be ashamed at feeling weak. Remember what the Bible says in 2 Corinthians 12:10:
"Therefore I take pleasure in infirmities, in reproaches, in necessities, in persecutions, in distresses for Christ's sake: for when I am weak, then am I strong."
Check out our collection of Inspirational Prayers
Prayer for Overcoming Life's Hardships 
O Lord we call upon you in our time of sorrows, That you give us the strength and will to bear our heavy burdens, until we can again feel the warmth and love of Your divine compassion.  Be mindful of us and have mercy on us while we struggle to comprehend life's hardships
Keep us ever in Your watch, til we can walk again with light hearts and renewed spirits
Strength for a Friend
Lord, I come before you today knowing that all power is in Your hand.
I know that you are the Lord and that you care for your people.
Right now, my friend is struggling with a difficult trial.
I can see her strength is faltering, Lord, and know that you have all of the strength that she needs.
I pray that you will reach down and touch her right now wherever she is at this moment.
Let your presence fill the room where she is and let her feel an extra portion of your
strength that can help her to get through this day.
She needs you now, Lord, and I thank you in advance for meeting her where she is
and shoring up her strength during this difficult time.
In Jesus' name. Amen.
If God is for us, who can ever be against us? Romans 8:31
Prayers for Strength and Courage
Say these prayers when you're in need of strength and courage. Day to day troubles are no match for the power of the Lord.
To Be Grateful
Lord God, may we be grateful for our lot, and compassionate toward all those who are
suffering every kind of distress at this difficult time.
May we hold back nothing, and hasten to be the ministers of prayer and mercy,
like the disciples of Him who went about doing good in times of need.
Amen
Prayer for Guidance and Help
Dear Lord, I am calling upon you today for your divine guidance and help. I am in crisis
and need a supporting hand to keep me on the right and just path.
My heart is troubled but I will strive to keep it set on you, as your infinite wisdom
will show me the right way to a just and right resolution. Thank you for hearing my prayer and for staying by my side.
Amen!
For Unfailing Strength
Do not look forward to what may happen tomorrow; the same everlasting Father who cares
for you today will take care of you tomorrow and every day. Either He will shield you from suffering, or He will give you unfailing strength to bear it.
Be at peace, then. Put aside all anxious thoughts and imaginations, and say continually: "The Lord is my strength and my shield. My heart has trusted in Him and I am helped. He is not only with me but in me, and I in Him.
Scriptures for Strength and Courage
Say these prayers when you're in need of strength and courage. Day to day troubles are no match for the power of the Lord.
"Fear not, for I am with you; be not dismayed, for I am your God; I will strengthen you, I will help you, I will uphold you with my righteous right hand." [Isaiah 41:10]
"Be strong and courageous. Do not fear or be in dread of them, for it is the Lord your God who goes with you. He will not leave you or forsake you." [Deuteronomy 31:6]
"But they who wait for the Lord shall renew their strength; they shall mount up with wings like eagles; they shall run and not be weary; they shall walk and not faint." [Isaiah 40:31]
More Prayers for Strength
Return to
Prayers for Strength and Guidance