Mothers Day Prayers are not for saying just once a year. We can always celebrate and appreciate our mothers for the sacrifices they make for our care and well-being.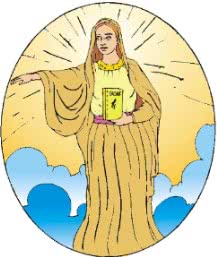 It is said that the task of motherhood is one of the most difficult in all of humanity. The creation, nurturing and raising of children is a heavy responsibility and deserves much support! We've gathered these prayers precisely for that reason.
Mary, mother of Jesus, is a quintessential role model for the Christian mother. In choosing our prayer selection we wanted to include prayers that would honor Mary and her wonderful qualities of kindness, love, and graciousness.
These prayers are to be said by mothers as well as for mothers.
Hold My Mother Close
Heavenly Father, hold my mother close to your Heart
As we hold her close to mine. Let her know today and every day
How much we love her. Lord, comfort her mind and reassure her
that her motherly care was everything we needed and wanted
And that we love her dearly.
Lord, comfort her body as she ages and grant her health and
Vitality as she goes through her days here on earth. Bring all
Good things to my precious mother, dear God, and bless her
Every day, in every way. Amen!
Mother of Our Savior
Blessed Mary, mother of our divine Savior.
I seek to emulate your loving kindness in every way.
Please bless me and my children, and keep us always mindful
Of the great gifts motherhood can bring. Amen!
"Children, obey your parents in the Lord: for this is right …
Honor your father and mother …." [EPH 6:1, 6:2]
Holy Mary
Holy Mary, Mother of Our Lord Jesus,
Hear my prayer for my own dear mother.
Take her hand as I hold her in my heart and mind.
Let the strength you have known as a mother
Fill her body. Let the devotion you feel for our Lord
Fill her heart. Let the grace that surrounds you
Fill her spirit. Holy Mary, may your divine presence
In my mother's life, today and every day, bring her joy
And peace forever. Amen.
Prayer for an Expectant Mother
In Due Time
Dear Lord, be not far from [name of mother] While she awaits the birth of her child.
May her mind be kept in perfect peace,
And her body in good form for the task of labor.
Bring your great joy to the birth, and give her the strength
to bring forth her child. Soften the pains of her labor and
delivery. In due time may she remember not her anguish
but her great delight in bringing new life into this world.
A child will be born, and we shall all rejoice in Your name!
May this child, and may we all, abide in the warmth of Your loving grace. So be Your blessing, amen!
Scripture about Women and Mothers
"My son, keep your father's commandment, and forsake not your mother's teaching." [Proverbs 6:20]
Click here to read more Bible Verses about Women and Mothers
Prayer Request: Post Your Own "Mothers Day Prayers"
If you'd like, you can post your prayer below so the PrayWithMe community can help pray with you.

Rules for Posting: All prayers are posted publicly through to this site. Don't use full names or any other identifying information that you wouldn't want out on the web.

Don't post with ALL CAPS, and try to use proper spelling and grammar.

If you can, help pray for others and post comments of support.
Recent prayer requests...
Tap below to see prayers from other visitors to this site.
More prayers posted in:
Well Known