May God bless our Grandmothers on this day, and every day.
Here is a small collection of prayers for grandmothers. Submit your prayer request below, and our community will pray with you.
A Prayer for Grandmothers
We thank You, God, for all of the grandmothers who are here today.
Their love and wisdom have helped to shape us into who we are,
and we have learned about how to love You and how to love each other
through their example.
Bless each of them with long life and show us all how to
honor them in ways that would let them know how much they mean
to us and that would also be pleasing in Your sight.
Amen
A Prayer for Grandma's Health
Oh God, we come before you with a request for healing for our beloved grandma. We know that it is within Your power to make her well again, but we also know that to everything there is a season, and sometimes we must simply trust You.
Still, we want to make our petition known, Lord. If it be Your will, we ask that You pour Your healing oil on our grandma that she can once again be healedand whole.
We ask this in Jesus' name.
Amen
The Grandmother's Prayer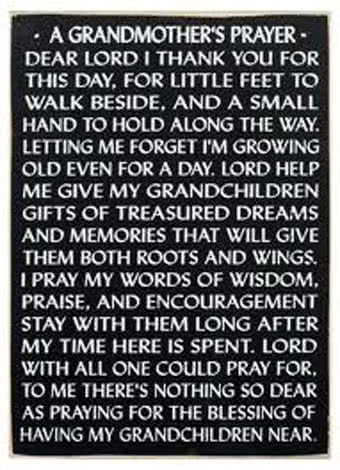 From the scriptures…
"My son, keep your father's commandment, and forsake not your mother's teaching." [Proverbs 6:22]
Read more bible verses about Mother's and Women.