May the Lord look over us all, and guide us towards safe harbors. Whether you are needing protection for physical safety or protection for spiritual warfare, God promises to be our provider and strength!
Our collection of prayers for protection include general prayers asking the Lord to look over us, as well as prayers for protection in specific circumstances. Use these 14 prayers throughout the day as you seek safety and experience the powerful ways God provides.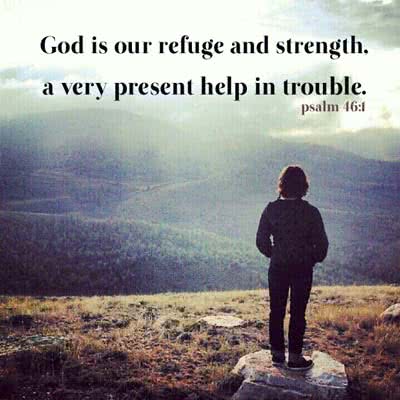 God is our refuge and strength, a very present help in trouble.
Psalm 46:1
The Light of God
The light of God surrounds us,
The love of God enfolds us,
The power of God protects us,
The presence of God watches over us,
Wherever we are, God is,
And where God is, all is well.
St. Matthew, St. Mark, St. Luke, St. John,
Like unto the prophet Jonas, as a type of Christ,
Who was guarded for three days and
Three nights in the belly of a whale,
Thus shall the Almighty God,
As a Father, guard and protect me from all evil.
Grant me Protection
Grant, O Lord, Thy protection
And in protection, strength
And in strength, understanding
And in understanding, knowledge
And in knowledge, the knowledge of justice
And in the knowledge of justice, the love of it
And in the love of it, the love of all existences
And in that love, the love of spirit and all creation.
For Protection in Safe Travel
God's Angels guard and keep you
All the way that you must travel
Till earth's days are past
When blossoms fade and
Time is fleeting fast
In times of purest joy
Or pain and fear
God's Angels guard
And keep you safe.
Guard Over Me
Jesus, I will arise; Jesus do thou accompany me;
Jesus, do thou lock my heart into thine, And let my body and my soul
Be commended unto thee.
The Lord is crucified.
May God guard and protect my senses
So that misfortunes may not overcome me.
In the name of God the Father, Son, and the Holy Ghost.
Amen!
Learn about the Hedge of Protection Prayer.
Protection from Wrongdoing
You thieves, I implore you to be obedient like Jesus Christ,
Who obeyed his heavenly Father unto the cross,
And to stand without moving out of my sight,
In the name of the Trinity.
I command you by the power of God
And the incarnation of Jesus Christ
Not to move out of my sight, like Jesus Christ
Stood on Jordan's stormy banks to be baptized by John.
And furthermore, I implore you, horse and rider,
To stand still and not to move out of my sight,
Like Jesus Christ did stand when he was about
To be nailed to the cross to release the
Fathers of the church from the bonds of hell.
Thieves, I bind you with the same bonds with which Jesus
Our Lord has bound hell; and thus ye shall be bound;
And the same Words that bind you shall also release you.
Protection from Thieves
God be with you, brethren; stop, ye thieves,
Robbers, murderers, horsemen and soldiers,
In all humility, for we have tasted
The rosy blood of Jesus.
Your rifles and guns will be stopped up with the
Holy blood of Jesus; and all swords and arms are made harmless
By the five holy wounds of Jesus.
There are three roses upon the heart of God;
The first is beneficent,
The other is omnipotent,
The third is his holy will.
You thieves must therefore stand under it,
Standing still as long as I will.
In the name of God the Father, Son and Holy Ghost,
You are commanded and made to stop!
Guard Me
Like unto the cup and the wine, and the holy supper,
which our dear Lord Jesus Christ gave unto his dear disciples
on Maunday Thursday, may the Lord Jesus guard me in daytime,
and at night, that:
No dog may bite me,
No wild beast tear me to pieces,
No tree fall upon me,
No water rise against me,
No firearms injure me,
No weapons, no steel, no iron cut me,
No fire burn me, No false sentence fall upon me,
No false tongue injure me,
No rogue enrage me, and that no fiends, no witchcraft
Or enchantment can harm me. Amen.
Protect my Day
Blessed be my protection when I go out during day or night,
That thou mayest not let any of my enemies, or thieves, approach me,
If they do not intend to bring me what was intended from your Holy Altar.
Because God the Lord Jesus Christ is ascended into Heaven in his living Body,
And so shall my body and wellbeing be protected on this journey.
O Lord, bless me and watch over me day and night.
In the name of the Father, the Son and the Holy Spirit. Amen.
Protect my Journey
In the name of God I go on this journey.
May God the Father be with me,
God the Son protect me, and
God the Holy Ghost be by my side.
Whoever is stronger than these three persons
May approach my body and my life; yet
Whoso is not stronger than these three
Would much better let me be!
Let No Evil Befall Us
O God, You are the preserver of men, and the keeper of
our lives. We commit ourselves to Your perfect care on the
journey that awaits us. We pray for a safe and auspicious
journey.
Give Your angels charge over us to keep us in all
our ways. Let no evil befall us, nor any harm come to our
dwelling that we leave behind. Although we are uncertain
of what the days may bring, may we be prepared for any event
or delay, and greet such with patience and understanding.
Bless us O Lord, that we may complete our journey safely
and successfully under Your ever watchful care.
Be with Me Christ
The cross of Christ be with me;
The cross of Christ overcomes all water and every fire;
The cross of Christ overcomes all weapons;
The cross of Christ is a perfect sign and blessing to my soul.
May Christ be with me and my body during all my life
At day and at night. Now I pray, I [name], pray God the Father
For the soul's sake, and I pray God the Son for the Father's sake,
And I pray God the Holy Ghost for the Father's and Son's sake,
And I pray God the Holy Ghost for the for the Father's and the Son's sake,
That the holy corpse of God may bless me against all evil things, words and works.
The Cross of Christ
The cross of Christ open unto me future bliss;
The cross of Christ be with me, above me, before me,
Behind me, beneath me, aside of me and
Everywhere, and before all my enemies,
Visible and invisible; these all flee from me
As soon as they but know or hear.
Enoch and Elias, the two prophets, were never
Imprisoned, nor bound, nor beaten and came
Never out of their power; thus no one of my enemies
Must be able to injure or attack me in my body
Or my life, in the name of God the Father, the Son,
And the Holy Ghost. Amen!
Protection from Heaven
The blessing which came from heaven,
From God the Father, when the true living Son was born,
Be with me at all times;
The blessing which God spoke over the whole human race,
Be with me always.
The holy cross of God, as long and as broad
As the one upon which God suffered
His blessed, bitter tortures, bless me today and forever.
The three holy nails which were driven through
The holy hands and feet of Jesus Christ
Shall bless me today and forever.
The bitter crown of thorns which was forced upon
The holy head of Christ, shall bless me today and forever.
The spear by which the holy side of Jesus was opened,
Shall bless me today and forever.
The rosy blood protect me from all my enemies,
And from everything which night be injurious to my body
Or soul, or my worldly goods.
Bless me, oh ye five holy wounds, in order that all my enemies
May be driven away and bound,
While God has encompassed all Christendom.
In this shall assist me God the Father, the Son and the Holy Ghost.
Amen. Thus must I, [name], be blessed as well and as valid
As the cup and the wine, and the true, living bread which
Jesus gave his disciples on the evening of Maunday Thursday.
All those that hate you must be silent before me;
Their hearts are dead in regard to me; and their tongues are
Mute, so that they are not at all able to inflict the least injury
Upon me, or my house, or my premises:
And likewise, all those who intend attacking and wounding me
With their arms and weapons shall be defenseless,
Weak and conquered before me.
In this shall assist me the holy power of God, which can make all arms or
weapons of no avail. All this in the name of God the Father, the Son and the Holy Ghost. Amen.
The Watchful Eye of The Lord
A watchful eye is caring for me. I am protected, safe, and free.
He is here watching, I am happy to be, He is here watching, watching over me.
I've been a lost lamb, just caring for me. I thought I had no one caring for me.
I was so lonely, tired and worn, but I looked around and this thought was born.
He is here watching, watching over me. Look little lamb, look around and see.
Look little lamb, He said , I am watching over thee. Drink from the water so pure and so clean.
Taste of the water, and then you will see. Open your eyes now, you are all clean.
See little lamb, you are white and all new. See little lamb, I will watch over you.
How kind dear sir, to watch over me. I am all white and clean and all new. You are so kind sir,
to help me dear sir.
Thank you for watching, watching over me. I feel protected, safe, and free.
For the Lord He is watching, He is watching over me. I stayed near his feet,
I was helpless and small, but he watched over me, that I should not fall.
Come little lamb, follow me to the water. You can drink from it there. I will help you not falter.
He knew that my knees were all tired and sore, from falling and falling, again on the floor.
Come little lamb, you can try it again. I know that you're weak, but I'll help you to stand.
You speak so kindly, I said to the man. You speak so kindly, You'll help me to stand.
I took a little drink, where he showed me the water, and I started to cry,
my tears rolled down in the water.
Why are you crying, He said to me then? I have been crying, again, and again.
Oh Master can you help me? I have lost a hold, of my children over yonder, who are a part of my fold.
Can you call them dear Master. To see if they'll come To your water dear Master,
Please see if they'll come.
You hold me in safety, with comfort and care. You speak to me gently, I have nothing to fear.
You are so kind dear Master. I am happy with thee. Even though I falter, You are still with me.
I am a little lamb, all torn and weak, But I will be happy to sit at your feet.
Submitted by A.C.
Prayer Request: Post Your Own "14 Powerful Prayers for Protection and Safety"
If you'd like, you can post your prayer below so the PrayWithMe community can help pray with you.

Rules for Posting: All prayers are posted publicly through to this site. Don't use full names or any other identifying information that you wouldn't want out on the web.

Don't post with ALL CAPS, and try to use proper spelling and grammar.

If you can, help pray for others and post comments of support.
Recent prayer requests...
Tap below to see prayers from other visitors to this site.
More prayers posted in:
Daily