Welcome to our collection of anniversary prayers and prayer request.
Nothing is more beautiful thank celebrating the continued success of a happy marriage. Bring God into the celebration with these beautiful prayers.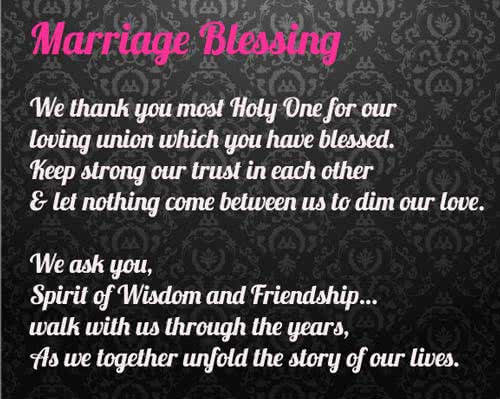 Anniversary Prayer
Lord, we thank you for this couple and for all of the years that
they have had together. Today, as we celebrate their anniversary,
our prayer is that you will continue to bless them.
Let their testimony of love and forgiveness be a help to other couples
as they start on their own journeys into married life. Lord, we pray that
You will honor their commitment to each other and to You by granting them
many more years of happiness together.
Amen
Protect This Relationship, Lord
Keep us, 0 Lord, from pettiness. Let us be thoughtful in word and deed.
Help us to put away pretense, and face each other in deep trust without
fear or self-pity. Help us to guard against faultfinding, and be quick to
discover the best in each other and in every situation.
Guard us from ill temper and hasty judgment; encourage us to take time for
all things, to grow calm, serene and gentle. Help us to be generous with
kind words and compliments. Teach us never to ignore, never to hurt, and
never to take each other for granted. Engrave charity and compassion on our hearts.
Please, pray for us.
Amen
Bless This Couple
Your Word tells us that when a man finds a wife that he has found a good thing.
You also make it clear in Your Word how important and sacred marriage is in Your eyes.
Lord, we pray that You will bless this couple with the grace, forgiveness and love that
is needed for a continued happy marriage.
We know it takes work, God, but we also know that if You're in the midst
of the marriage that it will succeed. Let Your blessings be on this couple in
Jesus name.
Amen
From the scriptures…
"Love is patient and kind; love does not envy or boast; it is not arrogant or rude. It does not insist on its own way; it is not irritable or resentful; it does not rejoice at wrongdoing, but rejoices with the truth. Love bears all things, believes all things, hopes all things, endures all things. Love never ends. As for prophecies, they will pass away; as for tongues, they will cease; as for knowledge, it will pass away."
[ESV,
1 Corinthians 13:4-7
]
Read more bible verses about Love and Marriage.
More Relationship Prayers
Return to
Anniversary Prayers