Here is our collection of popular dinner prayers and blessings. There is no better time to speak to God then when you're gathered around the dinner table with the ones you love.
This first prayer is a very popular before meal blessing. It holds a special place in my heart as I remember fondly my grandfather saying it before dinner when I was a young boy.
My grandpa was a hungry man, and when your hungry, a short blessing is a must!
Come Lord Jesus
Come Lord Jesus,
our guest to be,
and bless these gifts
bestowed by Thee.
Amen.
And here is another variation of this blessing:
Come Lord Jesus, be our guest,
May this food by thee be blest,
May our souls by thee be fed,
Ever on the living Bread. Amen.
Read some traditional Mealtime Prayers.
Read some Wedding Dinner Prayers.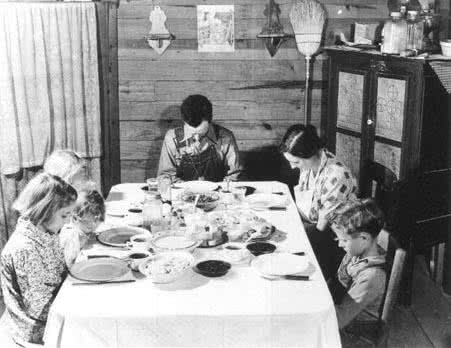 God is Great, God is Good
God is Great, God is Good;
Let us thank Him for our food.
By His hands we all are fed,
Give us Lord our Daily Bread.
Amen.
More Simple Mealtime Prayers
Bless Us As We Eat
Thank you, Lord.
These are simple words but they come
from simple hearts that overflow with the
realization of your goodness.
We ask you to bless us as we eat,
bless this food and bless the hands that prepared it.
May the words of our lips spring forth from
hearts of gratitude and may we bless
others as we fellowship today.
Amen.
A Rhyming Meal Prayer
Thank you for the food we eat,
Thank you for the friends we meet.
Thank you for the birds that sing,
Thank you, God, for everything.
Amen.
Giving Thanks
Dear Lord, thank you for this food.
Bless the hands that prepared it.
Bless it to our use and us to your service.
And make us ever mindful of the needs of others.
Through Christ our Lord we pray. Amen.
Amen.