The Lord our God often gives us so many wonderful things that makes our life worth living. He gives us the gift of family and friends, the gift of love and laughter. As humble servants, we should show gratitude and give something back to the Father.
Since God does not want anything material, we offer to Him prayers from our hearts. These heartfelt offertory prayers should be our gifts to the Lord for everything that He has done for us, including His Son who has given up His life to save us from our sins.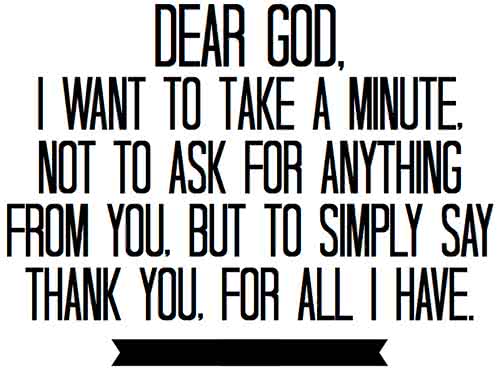 Morning Offering
Father Almighty, I love and adore You with all my heart. Thank You for creating me and making me a Christian. Keep me safe through the night. I offer You all my works and actions today.
I offer You all my thoughts and intentions, all my affections and desires. I gladly offer these all throughout the day. Grant them that they may be in according to Your will and only for Your greater glory, Lord.
Keep me away from all sin and evil. Let Your grace always be with me and my loved ones. May they feel Your presence through me. I pray that I never lose sight of you all day long. Accept my desire and take my offerings, dear God. Let me die for love of You. Let my last heartbeat be an act of perfect love like how Jesus has showed us.
In Your Son Jesus' name I pray. Amen.
Prayer for Offering of Life to the Lord
Heavenly Father, You have granted us the gift of being Your children. You have given us Your son to save us from our sins. Because of that, Father, I offer my life to you. I will live in sacrifice to do what is pleasing to You. I offer you all my hard work and my sacrifices.
I do all things to glorify Your most holy name, Lord. I cast all my worries about you and I believe that everything will be in place for I have You as my Father, dear God. Grant me the strength to hold on to You not only during the times of weakness but through whatever.
Thank You, Father, for being so generous to us. I give You my life and I will dedicate every service I do to You. I ask this in Jesus' name, I pray. Amen.
Prayer to Repay Generosity
Father Almighty, You have given us many blessings. We come to You today in thanksgiving and our hearts look heavenward. You have given us a home to take shelter in, clothes to makes feel warm, food to nourish our body and water to keep us from being thirsty.
You have given us eyes to see your beautiful creations, a nose to smell the scent of the flowers, ears to hear the birds humming so sweetly in the morning. You have given us the hands to touch the lives of many. For all these gifts You have showered upon us, we offer to You these simple presents. May they be put to good use of the community.
You have showed us what it means to be generous and we want to pay it forward to our church. Grant the youth the same generosity You have taught us and that they may understand what it means to be Your child. In Jesus' name we pray, amen.
Prayer for These Gifts
Heavenly Father, we offer You these gifts to mend the hearts of those who were possessed by the devil. You alone have the remove our insecurities – our greed, prejudice and our fear.
Your Word alone can nurture our souls and give peace in our hearts. You have given us the gift of salvation and you ask nothing but our repentance in return. Your example of being generous teaches us to do the same especially to those who have sinned against us.
You have taught us the lesson of forgiving those who have done wrong against us. We dedicate these gifts in Your honor and glory, Lord as thanksgiving for all the things You have given us. Teach us to be committed to You and only You all the days of our lives. We dedicate our lives, hard work and sacrifices to You, Father. In Jesus name we pray. Amen.
Prayer for the Gifts We Offer to the Lord
Lord, You provide us with everything it is that we need. You have blessed us with many opportunities to do what is right and true. You never ask us to wait when we cry out for Your name. You provide us counsel in times of sorrow and grief.
You share us joy in times of celebration and glee. Today, teach us how to dedicate our lives only for Your glory. Teach us to become a blessing to others even to those we do not know. Encourage us to follow the footsteps of Your son Jesus Christ as he was the ultimate example of what a good person is.
Teach us to reject all things evil.
Keep us away from temptation and mend the hearts of those who are hurt. May these tithes and other gifts multiply and it may be of help to those who are in need. In Jesus' name, we pray. Amen.
Prayer for Our Offerings
Heavenly Father, You are the Creator and Source of all things good. You have showered us with greatness and love even on the days we turn against You. Look into our hearts and receive this heartfelt thanksgiving we offer to you. Thank You for all the gifts and blessings You have showered upon me and my family. You are the rock of our spirit and without You, we will be nothing.
You have provided us with a family, friends, a home and food to eat for each day. As You have been generous to us, we offer You these gifts as symbols of our utmost gratitude for Your kindness. Bless us, Father, with continued graces and blessings throughout each year. May these gifts multiply and that everyone in our community can benefit from them.
Forever in Your glory, Lord. In Jesus' most holy name, we pray. Amen.
Read Powerful Prayers for Gratitude
My Daily Offering to the Lord
Heavenly God, I offer You all my works and actions for this day for the glory of Your name. I pray that I may sanctify every beat of my heart, every thought in my mind. Every simple work I do, I offer onto You. I wish that all my sins be forgiven as You are a merciful and loving God.
I offer this prayer to those who are dear to me. I pray that they fulfil Your most holy will and that they may accept all sorrows that may come their way. Take all my laughter and my tears, every word, every thought and each deed to help all those who are in need. May this gift of prayer be a unique offering to Jesus Christ, Your son.
He renewed our spirits and guided our eyes to look heavenward. I pray that my soul be united with the Holy Spirit. In Jesus' name I pray Amen.
A Morning Offering for the Father
Sweet Jesus, pray with me this morning as offering to God our Father. He has blessed me with You and my family. He has given me eyes to see, ears to hear, and a mouth to speak the word of truth. I offer to You and the Father all my works, thoughts and actions for this day. I offer all that I am and who I am to glorify Your name.
Jesus, You continuously offer Yourself for the salvation of all mankind. Teach us this kind of generosity. Teach us to love our neighbours, even those who have sinned against us like You have forgiven Judas. I pray that the Holy Spirit will be my guide on my journey to become like You, Jesus.
I pray that I may be pure like Your Mother Mary. May all women here on Earth emulate her purity and her integrity. All this I pray. Amen.
Featured Prayers and Poems for Offerings
We Pray as We Serve
Holy God, you sent us your Son to teach us how to live with one another, and Jesus made it so clear for us when he told parables of compassion and mercy. As we give our gifts this morning, we remember that our lives are a journey, and there are wounded and hurting all along the road. Some are where we can see, some are where we cannot see. May the gifts we offer this morning be used to bind up the wounds, to ease the pain, to give hope to those who wait in despair as the world seems to pass by on the other side.
We pray as we serve, in Jesus' name. Amen.
Source: gbod.org
Offertory Prayer for Worship Leaders
Almighty and gracious Father, we give you thanks for the fruits of the earth in their season and for the labors of those who harvest them. Make us, we beseech thee, faithful stewards of thy great bounty, for the provision of our necessities and the relief of all who are in need, to the glory of thy Name; through Jesus Christ our Lord, who liveth and reigneth with thee and the Holy Spirit, one God, now and forever.
Amen.
Source: generousgiving.org
Prayer for Thanksgiving Offerings
Dearest Father, I offer these gifts to You as You have given me everything it is that I need.
You have provided me with a comfortable life with more than everything that I shall ever need. May these gifts be tools to fix every negativity we have in life – desperation, greed, prejudice. You, Father, are the provider of all things great. May these gifts we give to You be used only for good things.
Thank You, Father, for the teaching us how to be generous without expecting anything in return because that is how it always should be. Through the intercession of Mary Our Mother, I pray. Amen.
Bearing Gifts
Heavenly Father, I come to You today bearing gifts. May these gifts be put to good use like the blessings You have been showering upon me and my loved ones. May Your generosity be emulated by everyone. Teach them, especially the young ones, the importance of giving and how it is more important than receiving. May these gifts be able to bind all broken hearts, relationships and dreams.
May they please You, Father, as that is what my life is for. In Jesus' name, I pray. Amen.
Gratitude and Thanksgiving
Father God, we come to You with gifts of gratitude and thanksgiving. We continuously praise and glorify Your name for all the gifts You have showered upon us. You have loved us unconditionally even on the days we do not acknowledge Your presence.
You willingly had Your Son sacrifice his life to save us from our sins. Because of those, Father, we thank You with all of hearts. We offer onto You all the sacrifices we have made and yet to make, all the hard work that goes through everything we do. In Your most holy name, we pray.
Amen.
The Fruits of Our Labor
By: Raymond A. Foss
We prayed together, to the creator,
the source of all we have,
offering "the fruit of our labor";
but the words themselves were discordant
somehow not precisely what I believe
a worthy prayer, offering back to God;
but is there more? Something else to say?
Our fruits; our labor, really?
We are offering that which we "earned",
hmm, but what does "to earn" mean itself?
What are the fruits of our labors truly?
When does the fruit stop being the Lord's
When do we earn anything? Isn't all of our all,
our lives, our work, our wealth, our poverty,
our living, our dying, all a gift of God?
Maybe, just maybe, our prayer should change;
maybe we should pray that we offer to You,
our loving, creator, sustainer God, a mere portion
a small measure,
a pittance of that which you have given us
through our works,
our living out of our working lives
through the gift of the job, the position, the career
you have called us to, at this time in our lives.
That we offer to you a small part of that which
You have so abundantly blessed us.
Not the fruits of our labor, but a piece of the harvest
of the daily bread which You alone have provided
a bit of the loaves, the fishes, so that we may add
to the basket from which you bless and break
and share with the whole world, Your ministry of love
to the ends of the earth, and the end of the age.
Living more humbly, acknowledging the source
the center of all we are, all we have
sharing with others, that which was never ours, truly,
gifts, all we have, from the creator,
to give back, from our hearts
so that others would know abundance, daily provision
that none would be hungry, thirsty, anymore.
Source: Raymond A Foss
These are just few of the wonderful offertory prayers anyone can offer to the Lord to thank Him for all the blessings You have received and the ones that you have yet to have. The Lord answers all requests asked from him, but not all at once.
But as the cliche goes, all good things come to those who wait.