He may just be the most famous preacher of the modern age. Billy Graham has delighted congregations for years with his trademark southern drawl, and impassioned sermons.
When I start watching a Billy Graham sermon on youtube, I usually can't stop. A couple hours will go by and I'll realize that I spent the whole night wrapped up in his words.
Well don't worry. Now you too can watch Billy Graham's greatest sermons all night too! Here are what we believe to be eight of his very best sermons. Tell us your favorite below in the comments!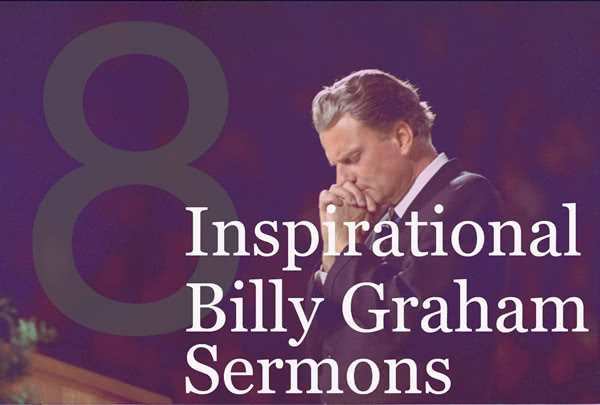 Who is Jesus?
You'll never be the same after this sermon. Once you here the Scripture, you can't turn back.
How to Cure Loneliness
Have you ever experienced loneliness? What causes loneliness? How can faith help you to overcome it? Billy Graham has the answers in this charming sermon.
The Three Things You Can't Do Without
What are the three things ever Christian needs? You need to know.
Choices
God didn't make robots. He gave us the ability to choose. See how you can make the right choices in your life.
The Offence of the Cross
Express your will. Will you accept Christ? This is one of Billy Grahams most passionate sermons.
How to Live The Christian Life
Do you want to live the Christian Life? Pastor Graham tells you how.
The Value of a Soul
What is the value of a soul?
Billy Graham: Technology, faith and human shortcomings
Though not technically a sermon, I think this is one of Billy Graham's best talks. What is the place of technology in faith?
Have you found any value in these words? If so, please pass it on by sharing this collection with your friends and family.
Add a Comment, Share Your Favorite Billy Graham Sermon