When suffering life's trials and tribulations, say this prayer to St Jude.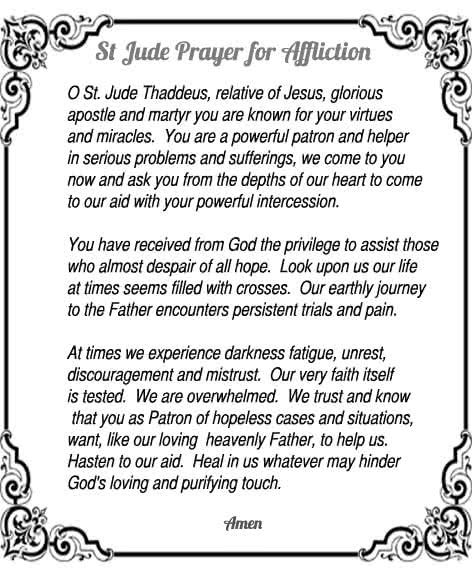 St. Jude Prayer for Affliction
O St. Jude Thaddeus, relative of Jesus, glorious apostle and martyr you are
known for your virtues and miracles. You are a powerful patron and helper in s
erious problems and sufferings, we come to you now and ask you from the depths
of our heart to come to our aid with your powerful intercession.
You have received from God the privilege to assist those who almost
despair of all hope. Look upon us our life at times seems filled with crosses.
Our earthly journey to the Father encounters persistent trials and pain.
At times we experience darkness fatigue, unrest, discouragement and mistrust.
Our very faith itself is tested. We are overwhelmed. We trust and know that
you as Patron of hopeless cases and situations, want, like our loving heavenly Father,
to help us. Hasten to our aid. Heal in us whatever may hinder God's loving and purifying touch.
Return to the St Jude Prayer.