Congrats to the graduate!
Here is a collection of graduation prayers that you can use to cheer on the new graduate during a ceremony, speech, or just a family dinner. If you'd like, at the bottom of this page, you can submit a prayer request as well, and the PrayWithMe community will pray with you.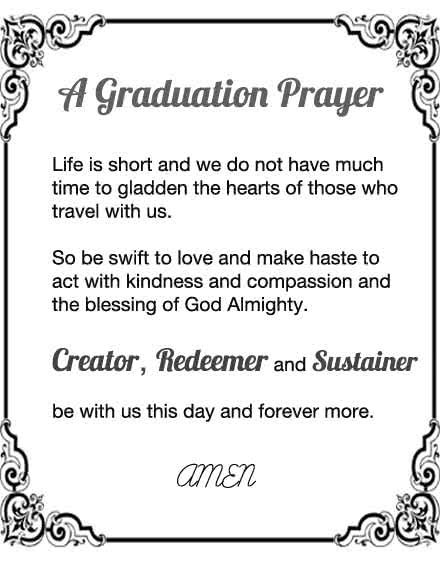 This Special Day
This is a special day in the life of the graduates.
As they embark on the next chapter in their lives we pray
that the same hand that has kept them thus far will continue to be in their lives.
May Your hand of protection be about them, and may Your Word continue to be
a light unto their path. Help them to make wise decisions and to always keep
You first in everything that they do.
Amen
A Prayer to the Graduate
As we prepare to watch the graduate walk across the stage to
receive a diploma, we want to take a moment to thank You for keeping
him/her safe and guiding him/her to this point.
Lord, touch him/her now with wisdom to be able to handle the next stage
of his/her life in a way that will be pleasing to You, and that will set
him/her on a path of living a life that will be a blessing to others.
Amen
Amen
A Prayer for a Successful Future
Lord we thank You that you have helped (name) make it to the point of graduation.
We give You the glory for his/her success thus far and ask that You will continue
to allow him/her to prosper as the next chapter of life begins.
Grant success both in the professional arena and in family life.
Allow there to be a proper balance between building a career and having a
meaningful personal life.
Most importantly, let his/her success be earned in such a way that will
be pleasing in Your eyes.
Amen
From the scriptures…
"For I know the plans I have for you, declares the Lord, plans for welfare and not for evil, to give you a future and a hope." [Jeremiah 29:11]